A lighted collar is a critical product for your dog's safety.
A lighted collar gives you the added safety of 360-degree visibility unlike a blinker or a collar light which typically hangs under your dog's neck.  Most lighted collars flash to increase visibility.   We are the experts in lighted collars and have been selling them for over 5 years and have talked with thousands of customers about their experiences and what works for their dogs and how they utilize the collars.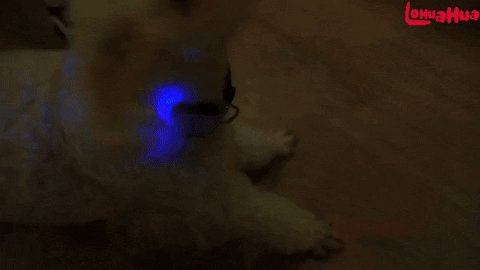 Note
There are two versions of the led collar.
1.USB Charging Version. Charging once the light gets weaker will help to
improve the service life of the battery
2.Button Battery Version
Replace the button battery when power off
CR2016 Button battery x 2 pcs
Please choose the version you want.
Specification
Size Width Neck Circumference
XS 2.0 cm 28 – 40 cm/11 -15 inch

S 2.5 cm 35 – 43 cm/13 -16 inch

M 2.5 cm 40 – 48 cm/16 – 18 inch

L 2.5 cm 45 – 52 cm/18 – 20 inch

XL 2.5 cm 52 – 60 cm/20 – 23 inch
Feature:
Three flash Mode
First Click_Quick Flash

Second Click_Slow Flash

Third Click_Steady Light